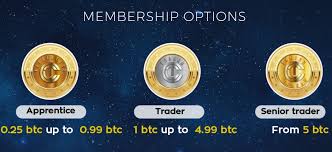 Bitcoin prices have recently fallen from Parity with Gold, so it could be a good time buy. Now for people who purchased bitcoin when it was over 1,000pounds per coin, they are facing a loss. To be honest this is quite normal with chryptocurrencies which are more volatile compared with fiat currencies. The long term futures for the likes of of popular chryptocurrencies such as bitcoin and Etherium are good.
Rather than question and worry that you might have purchased at the wrong time and now you are facing a loss, you might want to consider a way of putting your bitcoins to work for you. Just as you can trade fiat currencies and earn money when prices rise and fall, you can do the same with chryptocurrencies.
I recently joined Trade Coin Club, which allows members to trade bitcoins and earn revenue from an automated trading systems which follows the top ten popular chryptocurrencies. You do not need to have any experience either of chryptocurrency or trading this is all taken care of on you behalf. Once you have purchased a membership, a proportion of the amount you paid is traded on the system 5 days a week and the income you gain can be withdrawn or traded in the following week.
The lowest membership fee will cost you 0.36 bitcoin or around 300 pounds, and to protect you from loss only part of this money is traded. I believe this is a great way to put you bitcoin to work with a minimum of risk.